Is it Rising Damp or just a plastering problem?
Most damp problems can be diagnosed with a good pair of eyes and some experience.  However, sometimes problems can be more complex and even the most experienced need more information. One such situation is a rising damp profile or visible rising damp tide mark, where there shouldn't be one…. what else could be happening?
You've checked for leaks, bridging, poor pointing and such… still no joy?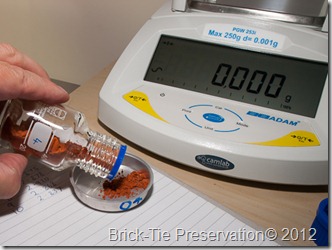 It's time to get scientific about it.
In these cases obtaining an accurate moisture profile is a must and the gravimetric method is the only fast and practical way of doing this accurately.
There are chemical moisture meters like the 'Speedy',which uses carbide reagent to produce an accurate measure of total moisture, but this is slow and the sample is destroyed in the process, so larger samples are needed so that half the sample can be taken back to the lab/office for further analysis.
The best way is just to take a number of samples from a wall, starting at the foot and working well past the last sign of any problem. This will provide the data needed to help get to the damp problem.
With tutoring from my mentor Graham Coleman I have set up a gravimetric lab in my office for this purpose and it came in handy on damp survey in Harrogate, West Yorkshire recently.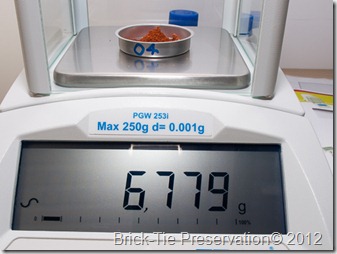 The client was concerned about damp on a party wall. Both sides of the wall are accessible and it has had a history of damp problems. using an electronic conductivity meter a typical rising damp profile was obtained.  However, the wall has a chemical DPC installed and the plaster has been replaced in the past so there were questions:
Is the damp continuing rising damp or is it due to salts which have not been addressed properly via the plastering system?
I took 5 vertical samples of the masonry and carefully weighed them to within one thousandths of a gram. These were then placed in a desiccator, though the desiccator was actually used as a humidifier. This is achieved by filling the base of it with a saturated solution of common salt (lab salt, not from the supermarket, which contains anti-caking agents which mess up the process). The samples were sealed in that environment for a few days and allowed to reach equilibrium with the relative humidity in the vessel. This is a constant 75% when common salt is used.
Of course, this means that the samples may have gained weight or lost weight, depending how much water they contained.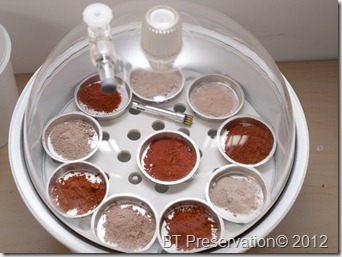 They are weighed again at this stage, before being dried overnight in a gentle oven (no more than 500C). A final weighing is taken to get the dry weight of the sample.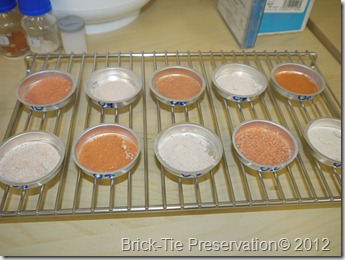 The reason for these three weights is that we want to separate out the water in the samples; which is due to hygroscopic salts, as opposed to water drawn into the wall via capillary action; 'free' water? An electronic moisture meter cannot differentiate between water from the ground and that which is due to the natural moisture capacity of the material.  Some materials can hold quite a bit of water from the air and their 'air dry' moisture content, can be quite significant, especially in a humid environment.
Add some salts to the wall and this becomes even more of a problem, because many salts are hygroscopic and will actively pull in water vapour, even to the extent of causing a wall to look damp. In addition, these salts drive conductivity meters crazy, so readings can be very misleading. To make matters worse, rising damp will concentrate salts in a wall and in the plaster and despite the best damp proofing system, these remain and can cause issues later.  This is why all 'approved' rising damp treatments include an element of re-plastering. This removes the problem of the remaining salts – if done correctly.
The above is the moisture profile with the hygroscopic moisture separated from the 'free' water.
This is a fairly typical rising damp profile with the free water tailing off with height, whilst the hygroscopic moisture tends to increase.  There are other interpretations and this cannot on its own be used as the diagnosis, but it does help me enormously where a definitive diagnosis is either difficult or has lots riding upon it (in a dispute for instance).
The equations for the calculations are contained in BRE Digest 245 and are quite simple. The equipment is not expensive, apart from a good self calibrating balance, which will set you back a good five or seven hundred quid. I have a proper lab oven but I dare say you could use a domestic one if you set it to very low.. say de-frost.
One thing to bear in mind is that single samples can be very misleading. I've found that many profiles throw up one or two rogue readings, so a number of samples to form a profile is always the best bet. Also, don't mix dissimilar materials in the same data set – use all plaster or all brick or all bed-joint.
Dry Rot.
Gravimetric testing is only part of the damp diagnosis process, use the tags to search for more relivant posts which may help you. You can also visit my commercial site, if you need my services search for Brick-Tie Preservation