Last Wednesday night I was a guest at the offices of Drivers Jonas Deloitte in the centre of Leeds. The RICS are very keen on continuing professional development and local training coordinator Adam Osborne MRICS, asked me along to bring the members up to speed on specialist structural repairs of buildings and wall tie corrosion.
That's a fair amount to cover, so I used case studies from some of the thousands of wall tie and repair projects I've been involved in over the past 26 years, to demonstrate the different methods and solutions available. Of course PowerPoint features, but only as a way of presenting slides – the talk was thin on statistics and figures; heavy on the practical facts of life on site.
PowerPoint can be a bit one dimensional so I took along a few bit and bobs for members to play with including:
A diamond core drill.
Samples of Resin.
A box of original corroded wall ties, ranging across the spectrum; wrought iron, cast and mild steel.
A box of different remedial cavity wall ties I've collected over the years.
Some tie bars and lateral restraints like Bowties and post tension connectors for use with Cintec Stud anchors.
I started with wall tie replacement;  some background information and a look at examples of rusting and healthy wall ties, taken through my boroscope. BRE digest 329 and 401 was covered of course, with a look at the 'visual grading of corroded wall ties table'. Wall ties are a bit 'old hat' to some, but of course it's a very common structural defect and is growing, so it was essential to bring the guys and gals up to speed on this.
The section on Helibeam repairs and modern lateral restraint methods, went down well, with some good questions fielded and a large roll of stainless steel 6mm Helifix Helibar was passed around.
Diamond drilling and Cintec heavy duty structural anchors were covered, with examples from case studies from our Cintec tie work on York City Walls, Leeds (ARMLEY) Jail,  various churches and Barn conversion repairs around Yorkshire and York University. The unique fixing method of the Cintec socked anchor was explained and I had a 1.8 meter long 15×15 Square hollow section anchor at the table to pass around.
The fundamental differences between cementitious, epoxy and polyester resin grout were covered too, along with the advantages each would offer in a particular application and fixing situation. The importance of training and using properly trained and certificated technicians to install remedial wall ties was stressed.
I always end my presentations with my light-hearted video of my Superstars, which raised a smile and then it was on to the raffle for the traditional bottle of bubbly – RICS member Richard Brooke BA (Hons) MSc of DTZ went away with a smile.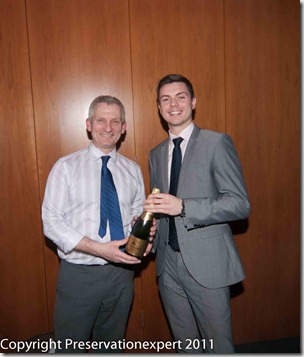 My thanks go to all who turned up for what I understand was a very well attended meeting – nice to feel wanted; I thought I was the only surveyor in Yorkshire with a keen interest in wall tie corrosion!
Thanks too for the bottle of wine I took home (already quaffed)
Cheers.
Dry Rot.