Dry Rot has perhaps the most striking of fruiting body's –  brackets or plates of lovely convoluted and rust coloured sporophores' which are unmistakable.
However, only a mature infection will produce such handy nameplates and sometimes they've been removed or are hidden from view.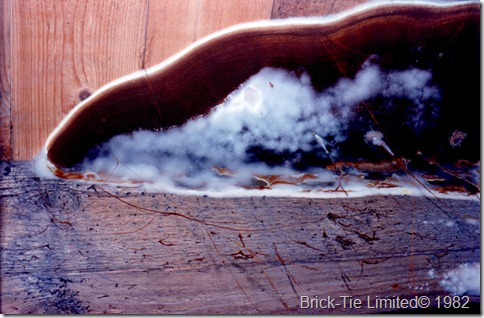 The video is one I shot the other day in a semi-derelict house in Leeds.  Dry Rot has had a field day in the past, due to a pipe burst (no drying done).
The infection has slowed to a snails pace, as the timbers have dried somewhat and the only fruiting body's are under the floors; out of sight.  As it happens they've shrivelled up too so the bright rusty colours seen above are not there.
There is plenty of fungal growth though and some is quite dry.  There are decayed timbers too. This is the thing I wanted to point out to you; unlike wet rot mycelium, Dry Rot strands are brittle when dried.  I did have a handful of strands from a Fibroporia outbreak in a jar in the office and though these were years old, they were as flexible as cotton twine. Fibroporia can produce spectacular fugal growth and is miss-diagnosed as dry rot more than anything else.
As you will see and hear in the video, the Dry Rot strands snap easily because this part of the infection has dried out.  This is a handy tip for surveyors, because even if this was the only bit of fungus you found – it narrows the species right back to Serpula lacrymans; The Dry Rot we know and love.
Some diagnostic pointers on Dry Rot – by Bryan Hindle CSRT CSSW
The effects of the decay on the joinery in particular is also a great pointer.  See how the skirting curves and bends? All the cellulose contained in the wood is extracted by the Dry Rot, leaving the lignin behind.  The removal of these sugars destroys the longitudinal strength of the wood; hence the cuboidal cracking. The brown lignin is left; confirming the decay organism as a 'brown rot'.  Whilst there are plenty of Wet Rots in the brown rot category, only Dry Rot has strands which are brittle when dried and bends and curves the joinery in such spectacular fashion.  Cubic cracking will happen with wet rots too, but it is much less well pronounced and tends to be finer and the cubes smaller.
I hope you find this useful…now go find some.
Dry Rot.