It's amazing to think that BT Preservation was incorporated 26 years ago, it seems like yesterday.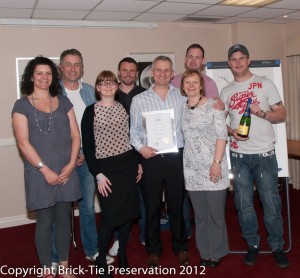 Dad, brother Stuart and I wanted to take our damp proofing firm (Yorkshire Dampcourse), into wall ties and we chose to start a new subsidiary.
Brick-Tie Limited was the result and soon we started using the trading name BT Preservation, because of my damp-proofing background and qualifications.
Ther have been so many changes in the industry since then, when the PCA was called the BWPA and the chemicals we used were mainly solvent based and highly inflammable.
Most of these changes are down the the great efforts of the Property Care Association, which has provided so many training opportunities and has helped lift the image of our industry.
Who'd have thought it? Investors In People, two awards for training, CHAS, TrustMark and the best customer feedback in the business – well done team.
The team is growing and includes Julie, Katrina, Sean, Stuart, Darren, Craig, Ryan, Adrian and Peter.
Here's to another 26 years!
Dry Rot.